Welcome
Welcome to the One Piece Fanon Wikia wiki!
Are you a fan of the One Piece franchise? Have you ever wanted to create your own pirate, marine or even your own devil fruit? Well, look no further, because your dream has finally arrived. We only ask that you provide us with your best effort and nothing less. Enjoy your stay!
We currently have 5,734 edits to 427 articles and 24 images on this wiki.

Pirates

Pirate Crews

Islands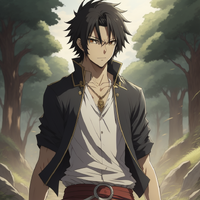 Date D Hayate Born as Gol D Hayate more commonly refer as Date Hayate is the First Mate of the Straw Hat Pirate he was the first member to join after being force to Join by Monkey D Luffy the captain of the crew and became the Vice Captain of the crew and one of The Top Fighter of the Straw Hat Pirates. Hayate is the Son of Gol D Roger the Pirate King the Adopted son of the late Shichiko Goldbeard the adoptive younger brother of late Wind Fist Date D Lang and the Twin Brother of the late "Fire Fist" Portgas D. Ace
Having had a bounty of 300,000,000 prior to his arrival at the Sabaody Archipelago, Hayate is one of Nineteen rookie pirates who has been referred to as the "Twenty Supernovas", pirates with bounties over 100,000,000 who have reached the Red Line.[19] He is also one of Twenty One pirates referred to as the "Worst Generation" (formerly known as the "Twenty Supernovas").
Main article: Date D Hayate
Affiliates
One Piece Fanon Wikia News
The site rules concerning Canon Devil Fruit usage is up

here

.
The One Piece Fanon wiki is born.